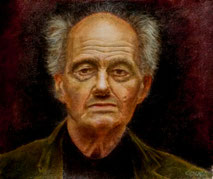 Painting the two medieval beasts had been lots of fun and I intended to paint more animals from the illuminated manuscripts, but I also wanted to try something different.
In October 2014 I was looking for something interesting to paint, when I ran into this photograph of the famous painter Frank Auerbach. A very interesting subject to paint indeed, and after some deliberation and a little tweaking I dived in.
I painted this portrait on canvas paper using the Old Masters tecnhiques of applying glazes of diluted paint on a monochrome underpainting (verdaccio). I was quite happy with the result.
My portrait of Frank Auerbach.
I hope he doesn't mind and I hope you like it!